Hi-Tech Equipment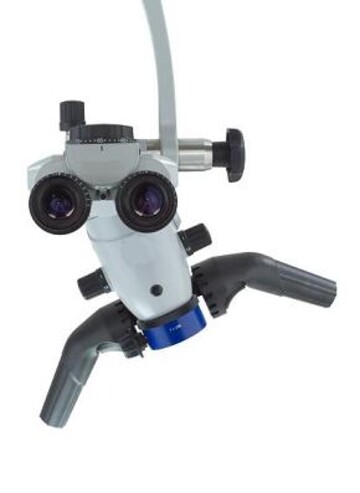 With the use of our high powered dental microscope we are able to see dental anomalies such as cracks and fractures which may not otherwise be seen. It also allows us to perform microdental procedures thus saving precious tooth structure. This allows us to follow our commitment towards conservative dentistry.
Our office uses the latest in digital x-ray technology. Digital x-rays offer a detailed image of your entire mouth and also deliver 90% less radiation than traditional film x-rays. X-rays play an invaluable role in the diagnosis of periodontal problems as well as provide a clear picture for Dr. Brown to accurately diagnose the problem and provide clear treatment regiments.

We place a small sensor in your mouth and then an x-ray beam is sent through your teeth and bone and onto the sensor, which records the image of your teeth and bone and sends it to the computer. The sensor can then be repositioned to capture images of other sections of your teeth and bones. The digital dental x-ray system is more sensitive than dental x-ray film systems so your exposure to x-rays is cut by 90%.

The large enhanced images that you see are what Dr. Brown sees, so it is easier for you to understand how they will treat your teeth and bones. Your periodontal checkups take less time and it is fun to watch the system work. Most patients are amazed.
The nerves and blood vessels in the root canals of a tooth are called the pulp. When bacteria or decay affect the pulp, root Canal Therapy may be necessary. Root Canal Therapy cleanses the damaged area and restores the tooth. We remove infected pulp, clean the root canal space, and then fill the space with special, medicated filling materials. You receive a fully functional tooth that can last a lifetime.

Improvement on the traditional method uses the dental laser to thoroughly clean the root canal space. The energy from the laser penetrates the small tubules of the root canal much more profoundly than traditional methods, ensuring better cleaning and a more complete removal of bacteria.
This laser is a great tool for shaping the gums and removing bacteria from the periodontal pocket, the space between the gums and tooth. Dental cleanings performed with diode laser therapy significantly improve the success of healing the gums. Inflammation, bleeding, pocket depths, and the amount of bacteria are all greatly reduced as opposed to just scaling and polishing the teeth alone. Best of all, laser therapy has been shown to improve circulation and increase the components that speed healing, referred to as Biostimulation. With any oral procedure or surgery, Biostimulation reduces pain and swelling and can help your mouth recover more quickly.
Water Flossers offer your patients an easier and more effective alternative to dental floss for improving oral health. More than 50 published clinical studies conducted at 25 university and independent research facilities have proven Waterpik Water Flossers are safe and effective on patients with gingivitis, periodontal disease, orthodontic appliances, implants, crowns, bridges and diabetes.